I'm still on a high from last night's Elimination Chamber. Man, what a show. This was easily the best PPV of the year so far, and it wasn't even a PPV.
If HHH's plan is too make the WWE Network necessary for fans, he did it with one incredible event. Because it was only available on the Network, all of the people that usually get PPVs through cable missed out. When they hear from their friends about what they missed…let's just say that the $9.99 a month is well worth it.
The match of the night was Cena/Owens, most of the matches were high level. Let's start from the beginning:
Pre-show: Stardust vs Zach Ryder: It bothers me that Stardust (Cody Rhodes) is down to preshow matches, but I enjoyed this one nonetheless. Ryder looks great. He's been training hard, looks bigger, and is moving well in the ring. Cody is always good, but I think his run as Stardust needs to end. He's main event potential, but gimmick characters rarely get the big push.
Tag Team Elim Chamber: This one saw all sorts of craziness. We had all of The New Day–who have really grown on me–Calisto hanging from the ceiling, Torito hanging from the ceiling, Titus O'Neil's head going through the chains, and top notch wrestling all around. Even the Ascension looked good. FEEL THE POWER OF THE NEW DAY!!!
Nikki Bella vs Paige vs Naomi: I expected the title to change hands here, and was disappointed that it didn't. Naomi has all the heat right now, and she deserves a title run. Some of the moves were sloppy, but there were some great ones as well. Paige proved again that she's the most talented diva on the roster. If only AJ was still around, the divas division could be fantastic. I can hardly wait until some of the NXT divas come up.
John Cena vs Kevin Owens: There's nothing I can say that will do this match justice. HHH is all in on Owens, and it showed, because Cena didn't try to bury him. Owens got a chance to bust out all of his great moves (Go Home Driver, Moonsault, Swanton, Super Scoop Slam Driver, etc) He even teased a Package Powerbomb. Cena got to open up his move set too, and he sold like a real team player. The best part: Owens won clean. Yep, Cena jobbed clean to Kevin Owens. So far, this was the match of the year, and Owens shoot after the match made me stand up and cheer.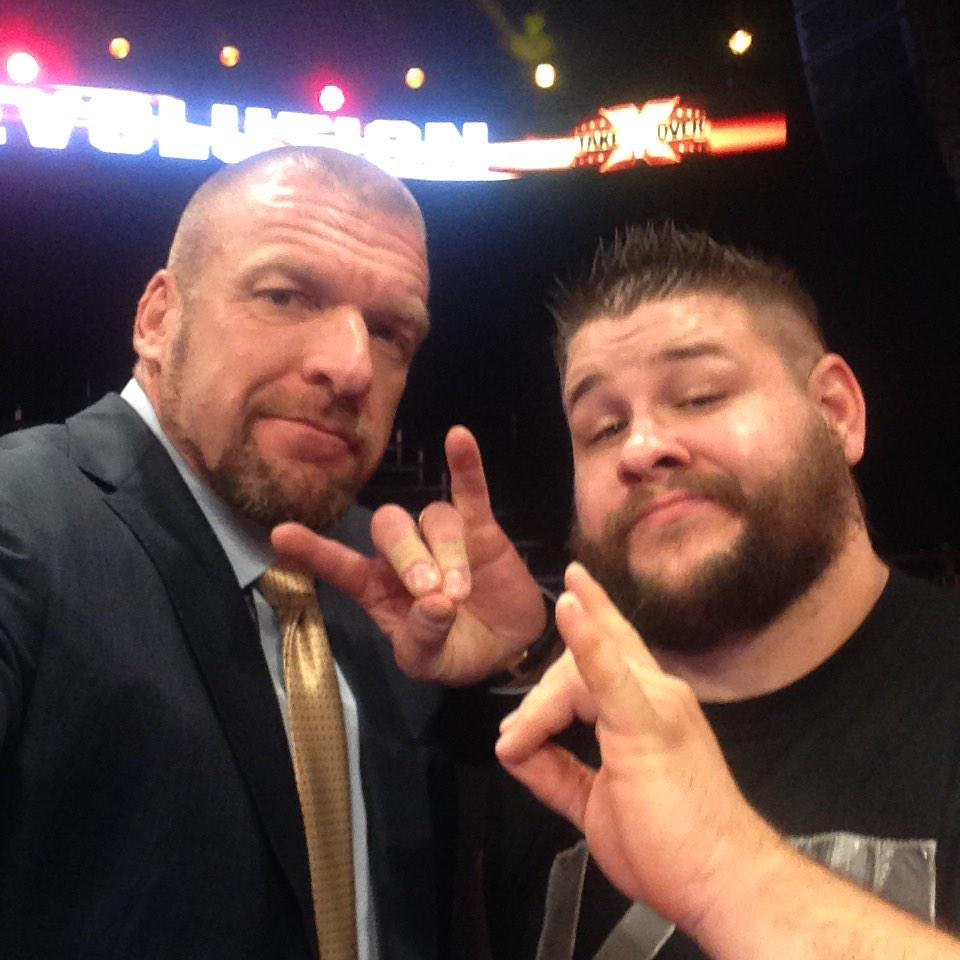 Neville vs Bo Dallas: This match was a little too short, and I was expecting more. Still, it was a solid bout between two NXT alum that I expect big things from in the future. Bo is getting better in the ring. His wrestling still doesn't match up to his mic work, but it's getting there. I BO-LIEVE in him.
IC Title Elim Chamber: This was not a good match, boring as hell. I was happy to see Mark Henry back (and he looks about 30 pounds lighter), but there were no good spots and Ryback winning was a let down. They also tried this dumb extended spot where Sheamus couldn't get out of the pod, but he was faking all along. I spent most of this match making dick jokes with my friends and eating ice cream cake.
Rollins vs Ambrose: This was not only a great match, but it had a double swerve for an ending. Rollins and Ambrose have amazing chemistry together. I could watch them wrestle forever and be happy. Still, it was the ending that made this match. The ref gets knocked out (I forget by who, but I think it was Kane). Ambrose hits Dirty Deeds, another ref comes out, and Ambrose wins the belt! Woooo! No one thought that he'd take the belt, and he did. Another unpredictable ending for the EC!
But wait. The first ref wakes up and DQs Rollins for outside interference. Ambrose wins, but by DQ so the championship doesn't change hands. Bullshit! What a terrible ending! Hashtag CancelWWE, etc.
But wait. Ambrose takes a beatdown, but Roman Reigns comes out and together they clean house. Ambrose takes the belt, and together they leave the arena with it. Rollins is still champ, but Ambrose has the belt. Let's see how this plays out tonight.
To conclude, it was a great idea for the WWE to put The Elimination Chamber PPV exclusively on the Network. The Network was already worth it, but now it's necessary. I want more.
Like my posts? Follow my website or "Like" my facebook fan page and/or follow me on Twitter. You can also purchase my debut novel, Song of Simon, at any online bookstore or a real one (they both exist). Song of Simon currently has a 4.7/5.0 rating on Amazon, so it's pretty damn good. If you're looking for something FREE, you can read my serial (soon to be an expanded series of novels) The Watchmage of Old New York. Though it ended in February, 2014, it remains one of the most popular serials on JukePop OF ALL TIME!